Seniors are undergraduate students who have already lived in Imperial halls. They are the chosen ones who will carry out various roles to fuel the hall's social scene. Our senior team collectively organise many events, form sports teams and the hall committee, put on film nights, provide brunches and BBQs and much more.
Having already experienced the fresher's life also makes them great problem solvers – you can knock on their doors for anything and they'll be more than happy to help.
---
Celine Elsayed (she/her) – Basement Floor
Hiya! I'm Celine and I'm a 2nd year Bioengineering student. I'm originally from Egypt, but lived most of my life in Dubai, and right now in London. I'm more than happy if you have any questions about halls, uni, London, or anything at all or if you just want to have a chat: I'm here!
I love exploring London and all it has to offer so if you wanna go for a new adventure I'm always down whether it's exploring hidden gems in the city, catching a live jazz performance under the stars, or whipping up exotic dishes from around the world (I'm a huge foodie), you'll find me game.
Wishing all of you an amazing first year filled with unforgettable experiences and incredible people. See you around campus!
Languages: English, Arabic, and bits of French
---
Aarya Banthia (he/him) – LG Floor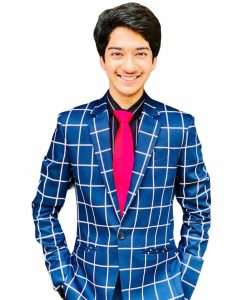 Hey,
I'm Aarya Banthia, a Hall Senior at Wilkinson. I'm super excited to meet you and create a fantastic first year at the Imperial College London. I'm currently pursuing a Master's in Mechanical Engineering. Before that, I've lived in Romania, South Africa, the UK, and India.
Apart from being a bookworm, table tennis, swimming, and cooking are among my favourite past time joys. I can't wait to cook with you: delicacies and funky fusions.
Coming to university, leaving your families and life to shift anew can be a different, wholesome experience. Managing it and adapting can be interesting. Feel free to drop by for a chat— not just for something serious, but for some quirky nonsense as well.
Have a fab year. See you soon!'
Languages: English, Hindi, and a bit of French
---
Bilal Uqaili (he/him) – Ground & Mezzanine Floors
Hi I'm Bilal. I'm a second year mechanical engineering student.  
I was born in Pakistan but have lived in the UK since I was 8 months old.  
I enjoy fixing, modifying, and riding motorbikes in my spare time, as well as attending motorsport events whenever I can!  
If I can't be at a racetrack, I'll be watching from home – so if you're also interested let me know and we can organize a watchalong.  
Looking forward to meeting you all, and hope you have a good start to Imperial! 
Languages: English, Sindhi, Urdu, German
---
Ankita Sharma (she/her) – 1st Floor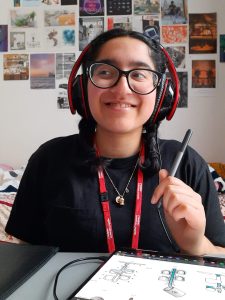 Hi everyone, I'm Ankita, a 3rd year MEng Design Engineering student!
I was born and brought up in the UK but I am originally from India. If ever you want food come up to my kitchen I will definitely have something to offer you.
I love doing activities such as frisbee at midnight on Queen's Lawn, watching shows in West End, and potluck food almost every Friday!
I love telling hilarious stories, and if you want a good old laugh you can always pop up and ask me all the wonderful things that happened in my first year…( trust me I have waaaay too many to tell…).
University is a really fun experience (well to be confirmed after my 3rd year) and hopefully, all of you will have a great first year meeting so many wonderful people. It is challenging at the beginning to manage everything but everything does fall into place slowly. If things feel overwhelming then you can always knock on my door room 181 on the first floor.
Good luck and see you all soon!
Languages: English and Hindi
---
Vandith

Gowdara Venkata Reddy (he/him) – Second Floor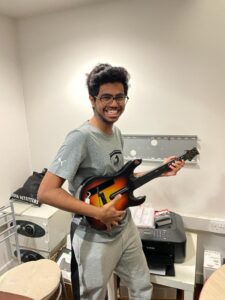 Hi I'm Vandith, I'm a 3rd year maths and computer science student. I am originally from Bangalore, India but spent most of my life in Dubai, UAE.
I love watching anime and reading manga so if you have any recommendations or want some recommendations, feel free to ask. I also enjoy puzzles and exploring new places to eat in London.
I will be the hall senior on the 2nd floor in room 281. I am excited to meet you all and if you have any questions or need any help feel free to knock on my door!
Languages: English, Kannada, Telugu and a bit of Hindi
---
Utkarsh Sinha (he/him) – Third floor
Hi there, I'm Utkarsh, an MSc DesEng student. I spend most of my time launching rockets and visiting my girlfriend in Amsterdam.
Languages: English (barely)
---
Anubha Bal (she/her) – Fourth & Fifth Floors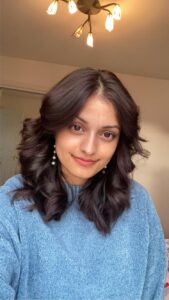 Hi there! I'm Anubha and I am a third year physics with theoretical physics student. I am originally from India but I have lived (almost) my whole life in Scotland.
I am a massive nerd and in my free time (or lack thereof – thanks, Physics degree!) I love reading, going for nice walks, and hitting up the best coffee shops near campus!
I will be your hall senior if you live on floors 4/5. I am excited to meet you all and hope you have a great start to your time at Imperial! If you have any questions, worries or just want a chat, feel free to knock on my door 🙂
Languages: English